OCR315e / OCR316e
USB OCR reader with optional MSR
The OCR315e and OCR316e are compact and robust OCR readers. The devices can be physically attached to a variety of handheld and ultra mobile PCs, or simply attached to standard desktop keyboards or monitors. The interface connection is via USB. The reader's track length is optimised to ensure that passports and ID cards are correctly aligned for consistent and accurate reading.
The OCR decoder has an advanced recognition engine that provides highly accurate and very fast document reading.
For best deals on OCR315 / OCR316 readers contact ID Vision on +971 4 2694 620 / [email protected]
The OCR315e bi-directional reader can read 2-line and 3-line MRZs from passports, ID cards, machine-readable visas and ICAO9303 travel documents.
The OCR316e model has all the MRZ functionality of the OCR315e, but also integrates a three-track MSR to read credit and debit cards, loyalty cards and frequent flyer cards.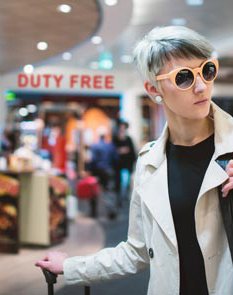 Applications
Airport check-in applications and security checks
AQQ, eBorders and APIS generation
Duty free
Hotel and car hire registration
Portable border control applications
Banking ID checks
Police identification-checking
Features – OCR315e
Compact design and small footprint
USB 2.0 interface (USB HID, keyboard and virtual serial interfaces)
Reads machine-readable passports, visas and travel cards conforming to ICAO Document 9303
Rapid and accurate decoding using Access' established OCR decoding technology
Bidirectional OCR read
Bi-colour LED and audible alarm providing good/bad read indication
Can be used as free standing, desk mounted or attached to a range of monitors and devices
Different cable length options
Multiple cable exit positions
Firmware download / upgrade capability
Features – OCR316e
Same features as the OCR315e, with an additional bi-directional, 3-track MSR conforming to ISO tracks 1, 2 and 3.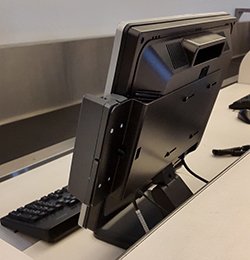 OCR Functionality
The OCR reading functionality captures code lines reliably from machine readable documents, including passports (MRP), visas (MRV) and OCRB-encoded cards such as the US Resident Alien Card and European national ID cards. In addition, APACS debit and credit documents can be read (APACS standards 3.1 and 3.2, respectively), together with E13B, OCRB and mixed E13B and OCRB fonts.
MSR Functionality
The MSR is capable of reading three-track magnetic cards complying with ISO7811/2-5.