Car Parking Barrier | PB1000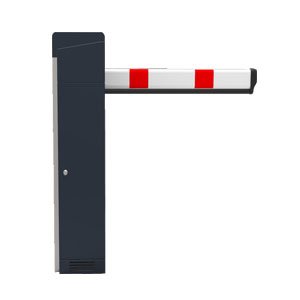 The Barrier Gate doesn't provide any barriers for you and your applications – but a clear boundary for your parking facility!
ZK Boom Barrier is a product which ZKTeco owns the independent intellectual property rights. Its boom prevents entry of unauthorized vehicles to restricted area, and is raised by the linkage between the gate and the remote control, access control system, long-distance reader and number plate recognition system. If a floor sensor is installed, strike can be avoided, and the boom will be automatically lowered after the vehicle passes through the gate; otherwise, the boom can be lowered manually by using a remote controller or press button. ID Vision Dubai's sleek parking barrier range offers great value for money and excellent control of small or big car parks.
The barrier gate for all purposes and applications!
The boom can be equipped with pressure wave. When there is any hindrance during the boom lowering, the boom will be automatically raised to prevent it from striking vehicles or people. LED light tape is also optional for changing color in boom raising or lowering, helping driver avoid hitting the boom.
FUNCTIONS :
Compact design, convenient for packing and lowering delivery cost;
ZK designed rolling pressure spring technology, extending product life;
Boom can be raised and lowered smoothly and steadily;
Outer case and interior can be flexibly separated, convenient for maintenance and customization;
Simple installation – just fix the barrier gate on floor and connect it to electricity.
SPECIFICATIONS :
Technical Specifications
Model No.
PB1010L/R
PB1030L/R
PB1060L/R
Lane Width
3M, up to 3.8M with telescopic boom
4M, up to 4.8M with telescopic boom
5M, up to 5.8M with telescopic boom
Opening / Closing Time
1S
3S
6S
Supply Voltage
110V AC or 220V AC
110V AC or 220V AC
110V AC or 220V AC
Power Consumption Max.
200W
200W
200W
Frequency
50-60Hz
50-60Hz
50-60Hz
Cabinet Material
Powder Coated Steel
Powder Coated Steel
Powder Coated Steel
Boom Material
Aluminum Alloy
Aluminum Alloy
Aluminum Alloy
Base Frame
Cast Iron
Cast Iron
Cast Iron
Temperature Range
-20°C~+60°C
-20°C~+60°C
-20°C~+60°C
Humidity Range
≤90%
≤90%
≤90%
Ingress Protection
IP54
IP54
IP54
Housing Dimensions (W x D x H)
240 x 250 x 980mm
240 x 250 x 980mm
240 x 250 x 980mm
Packing Dimensions (W x D x H)
410 x 390 x 1170mm
410 x 390 x 1170mm
410 x 390 x 1250mm
Net Weight (Without Boom)
49KG
50KG
51KG
Gross Weight (Without Boom)
54KG
55KG
56KG
If you would like help to scope your requirements, or require a free site survey, please contact us or e-mail [email protected] or call on 009714 269 4620. For best offers on Parking Gate Barrier / Boom Barriers in Dubai, contact ID Vision today, most reliable supplier for ZK Gate barriers in UAE.