PRADOTEC BCR SERIES BIOMETRIC /SMART CARD READERS
PRADOTEC offer a wide range of reader's multi-interface for contact and contactless cards compatible with the PC/SC standards and featuring of Sagem Morpho Smart CBM, with fingerprint sensor for advanced authentication and identification requirements.
BCR200BT is a new biometric fingeprint reader for Emirates ID Applications . ( EIDA Approved )
BCR200BT / BCR250BT
Moving Beyond Mobility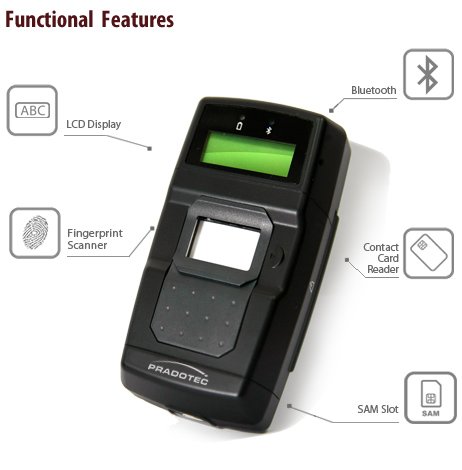 BCR200BT/BCR250BT, the first of its kind Bluetooth enabled Biom etric Card Readers engineered to pair with most Bluetooth enabled mobile and desktop platforms. It is compatible with Android and Windows®.Incorporated with built-in contact card reader (BCR200BT)/contactless card reader (BCR250BT) and advanced biometric scanner, they stand out as the most ideal portable biometric card reader in the industry.
FEATURES :
Contact Smart Card Reader
Optical Fingerprint Scanner
Mobile Environment
Built-In Bluetooth
Secure Access Module (SAM) Security
Ultra Slim Size and Ergonomic Design
Dual Functionality: Identification and Verification to be performed simultaneously