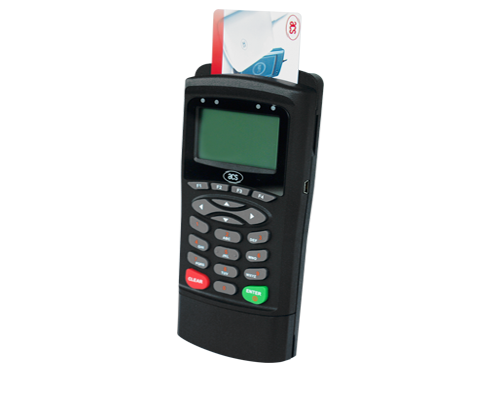 OVERVIEW :
ACR89 is one of ACS's strong line of Smart Card Readers with PIN-Pad. An upgrade from the ACR88 PIN-Pad Reader, it offers better performance, longer battery life, and lower energy consumption, at a lower cost. This versatile handheld smart card reader runs a 32-bit MCU. It has built-in keypad, 128 x 64 high-resolution graphical LCD, LED indicators, buzzer, rechargeable battery and large programmable memory. Through these features, ACR89 enables users to perform secure smart card transactions in both office and field environments.
ACR89 provides the unique advantage of having two modes—PC-linked and Standalone—to cater to unique user requirements. For its PC-linked mode, it connects to the PC via its USB cable; while for its Standalone mode, it uses its Lithium-ion Battery to run wirelessly. It also comes with a serial Interface port that enables connection to other peripherals.
ACR89 can support dual interface applications. It has access to contact cards, and can also be customized to support contactless cards upon request. Likewise, it can be customized to include a thermal printer to provide an optimal solution for multi-purpose applications.
Being CCID-compliant, ACR89 has a plug-and-play solution that facilitates in its ease of use and installation. Users can also build their own standalone applications through its multi-tasking environment using Free RTOS Kernel and C-language. Firmware upgradeable, ACR89 is suitable for existing and future smart card applications.
FEATURES :
32-Bit RISC Processor running Embedded FreeRTOS
USB Firmware Upgradability
Hand-held size and weight
2 Full-sized Contact Card Slots
3 SIM-sized SAM Card Slots
Dual Operation Modes
PC-linked Operation

USB 2.0 Full Speed Interface
Through detachable USB Cable
CCID Compliance
Support PC/SC

Standalone Operation

Rechargeable Li-ion Battery (charging through USB)
Support third party application programming via FreeRTOS
User programmable by C language

Built in Peripherals

Easy-to-Read, High Resolution Backlit LCD
Highly Durable Chemical Resistant Keypad
4 LED Status Indicators
Monotone Buzzer
Real-Time Clock (RTC) with Independent Backup Battery
Optional Detachable Thermal Printer (PTR89)

Tamper Detection Switch to protect against unauthorized intrusion
Supports Secure PIN Entry (SPE)
Supports PPS (Protocol And Parameters Selection) with 115,200 – 206,451 bps in reading and writing smart Cards
Supports Android™ 3.1 and above
Best reader for UAE Tasheel applications .
APPLICATIONS :
e-Government
Banking & Payment
e-Healthcare
e-Purse & Loyalty
Transportation
TECH SPECS:
Dimensions
181.5mm (L) x 77.0mm (W) x 30.5mm (H)
Weight
235g
Interface
USB full speed 2.0
Power

PC-linked mode: USB powered (via detachable USB cable)
Standalone mode: Battery powered (Li-ion Battery with charging through USB)

Supply Voltage
3.7 V DC
Supply Current
Max. 60mA
Operating Temperature
0°C to 50 °C
Smart Card Interface Support

ISO 7816 Class A, B and C (5V, 3V and 1.8 V)

Compliance / Certifications

CE, FCC, RoHS Compliant, ISO 7816, PC/SC, CCID, USB Full Speed, EMVCo Level 1
Microsoft WHQL: 2000, XP, Vista, 7, 8, 8.1, Server 2003,  Server 2008, Server 2008 R2, Server 2012, Server 2012 R2

Operating System Support

Windows®
Linux®
Mac OS®
Android™