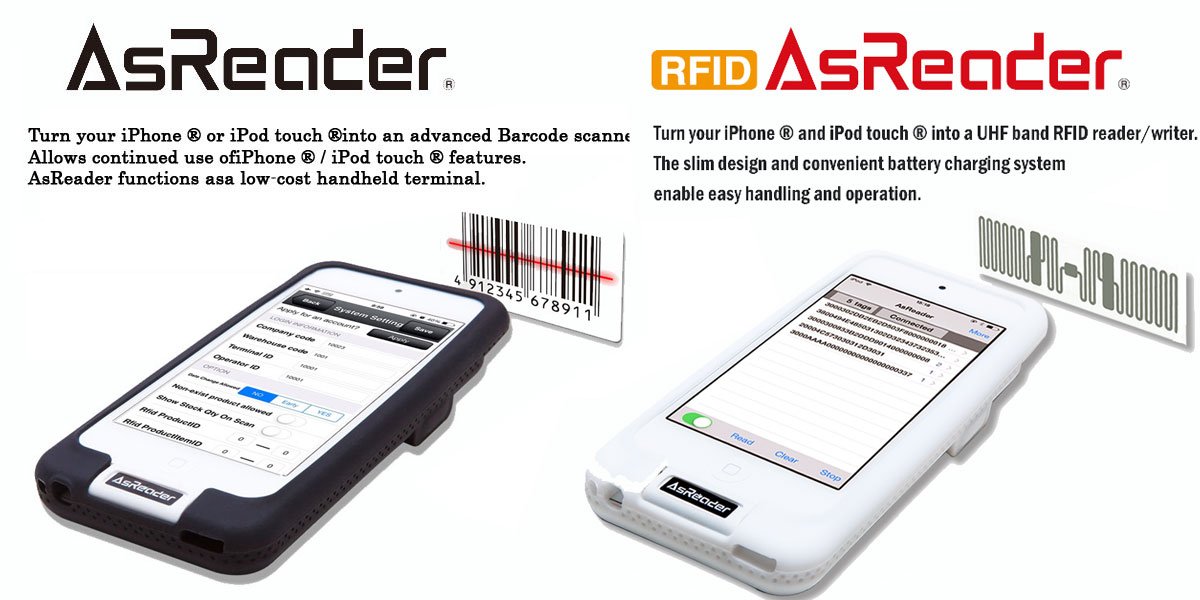 Turn your iPhone ® or iPod touch ®into an advanced Barcode scanner. Allows continued use of iPhone ® / iPod touch ® features. AsReader functions as a low-cost handheld terminal.
Turn your iPhone ®and iPod touch ® iPhone® / iPod touch® into a UHF band RFID reader/writer.
Contact ID VISION for complete range of AsReader barcode scanner products.
Get the best deals on AsReader 1D barcode scanner, 2D barcode scanner, UHF band RFID Reader / Writer in Dubai from ID Vision UAE .Contact us on +9714 269 4620 or email us sale[email protected] for additional help.
1D Barcode Scanner
AsReader has an ultra-compact design for easy carrying and handling. Dimensions: 141.9 x 64.4 x 17.8mm (5.59″ x 2.54″ x 0.70″) Weight: Approx. 80 grams (1D model without iPhone ® or iPod Touch ®).
http://www.idvisionme.com/wp-content/uploads/2017/01/product_asx-510r.jpg
300
300
IDVISIONME
http://www.idvisionme.com/wp-content/uploads/2017/05/ID-Vision-logo.png
IDVISIONME
2017-01-29 10:15:07
2017-02-03 15:14:56
1D Barcode Scanner ASX-510R AsReader
2D barcode scanner
AsReader has an ultra-compact design for easy carrying and handling. Dimensions: 141.9 x 64.4 x 17.8mm (5.59″ x 2.54″ x 0.70″) Weight: Approx. 80 grams (1D model without iPhone ® or iPod Touch ®)
http://www.idvisionme.com/wp-content/uploads/2017/01/product_asx-510r.jpg
300
300
IDVISIONME
http://www.idvisionme.com/wp-content/uploads/2017/05/ID-Vision-logo.png
IDVISIONME
2017-01-29 10:35:19
2017-02-03 15:26:32
ASX-520R AsReader 2D Barcode Scanner
UHF band RFID Reader / Writer
RFID AsReader has an ultra-compact design for easy carrying and handling. Dimensions: 64.4mm H x 141.4mm W x 17.8mm D; Weight: Approx. 90 grams (without iPhone ® or iPod touch ®)
http://www.idvisionme.com/wp-content/uploads/2017/01/ASX-301R.jpg
300
300
IDVISIONME
http://www.idvisionme.com/wp-content/uploads/2017/05/ID-Vision-logo.png
IDVISIONME
2017-01-29 10:50:41
2017-02-03 15:41:23
Asreader ASX-301R UHF reader writer